Multi Stop Route Planner Synced With Waze
Plan a route and navigate with Waze
Waze is a fantastic navigation app, to navigate to a single destination. Its strength lies in the real-time traffic data it gathers from users, which affects the driving directions it provides.
Waze is used for navigating from point A to B. You can enter a stop in the middle, but that's all the app will let you do.
Unfortunately, Waze offers no support for drivers who need to visit multiple places in a single journey nor does it help people making a trip over several days with various destinations.
In contrast, with MyRouteOnline Route Planner App, you can add as many as 1000 stops to your route and it will offer you directions to each location, with no need to figure out the best order yourself. MyRoute does everything for you.
If you need to visit multiple locations, Waze is not enough.
How would you decide which stop to visit first? MyRouteOnline route planner app optimizes your route:
Waze Route Planner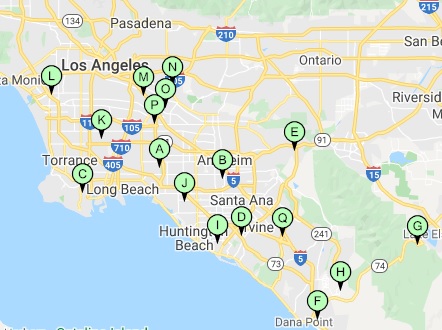 MyRouteOnline Route Planner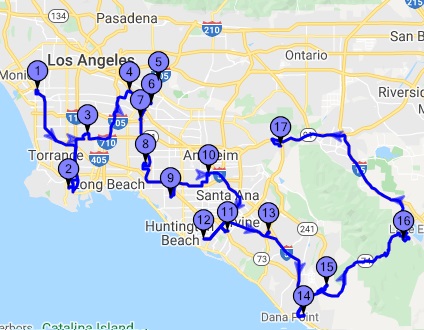 Plan a multi stop route with MyRouteOnline, and then use it with Waze
Import your list and click Plan My Route
Email your route and open it on your Smartphone
Open MyRoute app and navigate using Waze live map
MyRoute app is available for iOS and Android, and if you have Waze installed on your Smartphone, it will recognize it and push the destinations to Waze map app, every time you reach your destination. You'll then follow Waze driving directions and map.
MyRoute app takes all the effort out of planning and navigating, so there is no need to enter the destination one by one, we do that for you.
No matter how many stops you have, import your list to MyRouteOnline and click Plan My Route. Our Route Generator will optimize the order of your list, giving your the best route connecting all addresses, not just A to B.
Now, let's look at these two navigational apps in comparison with one another. Waze and MyRouteOnline are two widely used navigation apps. Each app has its own capabilities, excel points, and distinct features. And while both apps claim to help drivers create a multi-stop route, that's not exactly the case in both instances.
What most people love about Waze is its reflection of real-time data, showing current traffic projections and estimated times. And while technically, you can add a stop in Waze in the middle of your journey, which technically makes it a multi-stop route, that's where the personalization stops. In Waze, click "add stop" to add a single stop in your route. However, if you want Waze directions from one place to another, it may be easier to create two separate routes, one from point A to B and then another from point B to C. Additionally, Waze doesn't really help optimize this drive because it views it as two separate routes, which means the task of optimizing your route is up to you, the driver.
So, before you Google how to add a stop on Waze, first ask yourself, is this the best choice for my multi-route journey?
On the flip side of all this, MyRouteOnline has been specifically designed to take the hassle out of routing multiple-stop journeys. This makes it an extremely powerful asset to anyone needing to make multiple stops on their trip, such as delivery drivers, procurement entities, event vendors, and many others.
MyRouteOnline allows you to add up to 1,000 stops in a single journey. It certainly offers users more personalization and optimizations so they can simply focus on following the driving directions provided by the app.
There is still a place for Waze users today—no need to wave the app "goodbye" entirely. What many drivers find helpful today is using the Waze app in conjunction with MyRouteOnline. First, they log in/register an account on MyRouteOnline and swiftly import a list of their required addresses. After MyRouteOnline has created an optimized multi-stop journey, users can export their route to external navigation apps, such as Waze, to use on the road.
In summary, when it comes to multi-stop journeys, MyRouteOnline is the clear choice in creating optimized mukti-stop journeys, making it the preferred option. But if you're a tried and true Waze user, you can still use it on the road with the help of MyRouteOnline.
+ Find out how to open Waze with Android 12.
Route Planner for Waze – Start Free Now