Delivery Route Optimization & Mapping for Transportation Efficiency
Improve your transportation efficiency
There are many challenges for anyone spending significant time on the road, but there are unique obstacles that only delivery drivers, couriers and messengers encounter as part of their daily responsibilities. Keeping organized, vehicle maintenance and not getting lost are a few examples.
Organization is critical to every business, but doubly so when the goal is to delivery products or services to clients. Without a "paper" trail of when items are received, sent out and received by customers, a delivery business opens itself up to losing profit by false claims and mishandled product.
Vehicle maintenance plagues every company with drivers, whether they are provided by the employee or employer. Natural wear and tear happens on vehicles but driving them in stop and go traffic for long periods of time wears down brakes and other essential parts of cars.
Wear and tear on vehicles may seem like a more difficult problem to overcome, especially when another obstacle is repeatedly getting lost. Without a good route planner, drivers are at the mercy of GPS programs or even paper maps.
Types of Businesses that will benefit from route planning:
Delivery businesses
Courier services
Messenger services
Maintenance services

Landscaping / Gardening
Medical
Security Patrols
Benefits of Using MyRouteOnline
The best benefit of MyRouteOnline is the amount of money you will save from less repairs for vehicles, gas, and time on the road. It is an easy to use program that allows you to set up entire routes, with up to 300 addresses and time allowed between stops for deliveries.
With a solid receipt system when product is received and then sent out for delivery and received at the destination, businesses can avoid profit losses and maintain organization. Using a preventative maintenance schedule is will help keep vehicles on the road longer and safely by limiting the number of miles driven. Using a great route planning system like MyRouteOnline can resolve the problem of getting lost as well as reducing wear and tear on vehicles.
Simply go online before you begin your deliveries and plug in all your addresses, with time gaps to allow for great customer service to clients. Once it is loaded, just save it and go. Access the route from any smartphone with internet access, and go hands-free. The route planner does all the work for you, getting you every place you need to go in the most logical and efficient way possible.
Plan Your Deliveries – Start Free Now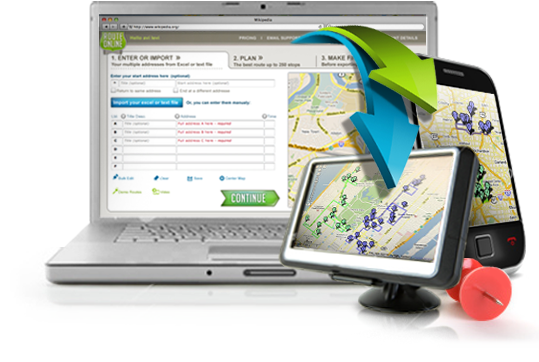 Testimonials
James, K., MN, USA
"I have done tons of research for routing software and mapping software and combinations of the two. We were looking for something to help with new carriers or more specifically, downed routes. Your software offers the greatest impact for this at the cheapest cost. We were not looking for something to manage or replace our existing software we use, just a complimentary software."
I need planning for:
You might also be interested in: